Simon joined the team in January, as a Sustainable Packaging Development Lead and has put together a great post explaining the purpose of Icertech's partnership with Bangor University. Read the below from Simon, for more information!
Sustainable packaging development is a crucial area of focus for Icertech. As we all become increasingly aware of the environmental impact of packaging waste, Icertech is taking proactive steps to reduce our carbon footprint and ensure that our packaging is sustainable. As the Sustainable Packaging Development Lead, my role is to spearhead the development of sustainable packaging solutions that meet the needs of the environment whilst still upholding the key quality and performance characteristics synonymous with Icertech.
I view sustainability as the ability to meet the needs of the present without compromising the ability of future generations to meet their own needs. In the context of packaging, this means creating packaging solutions that are environmentally friendly, economically viable, and socially responsible. Our packaging will be designed to minimize waste, reduce carbon emissions, be easily recyclable or biodegradable, and help develop the circular economy.
My role is as part of a Knowledge Transfer Partnership between Bangor University and Icertech. This collaboration aims to transfer knowledge, expertise, and technology between academia and business. This partnership will catalyse the development of innovative bio-based solutions, benefiting from the access to cutting-edge research, specific scientific expertise and development capabilities available through the Biocomposites Centre at Bangor university. This partnership will also embed new skills and capabilities for all staff within the business, becoming a sustainable leader within this market.
I will be conducting Life Cycle Assessment (LCA) to evaluate the environmental impacts of all our products and processes. LCA is a comprehensive approach that will consider the entire life cycle of each stock Icertech product, including raw material extraction, processing, transport, and disposal, assessing the environmental impacts at each stage. This will allow us to identify environmental hotspots and give us areas to focus upon that will have the most significant reduction of our environmental impact. Our new product design will be informed by LCA research, identifying key areas that do need more environmentally friendly alternatives, to testing the feasibility of these suggestions from a life-cycle point of view, allowing us to make fully informed decisions.
In addition to identifying environmental impact associated with each product, we will use Life Cycle Assessment to improve our supply chain management, identifying opportunities to maximise the efficiency of our supply chain, both upstream into our company, but also downstream, to the consumer. As part of our commitment to have sustainability at the heart of Icertech, we will use what we have learnt to enhance our communication around our environmental performance, providing transparent, reliable and peer-reviewed information to customers to help inform their decision making. We hope that this will influence the whole industry to look closer at their own sustainability, and to also provide their own information to start a movement towards products and processes that are sustainable and contribute to a greener future.
The KTP project aims to take action on our current environmental crisis, by providing the research and scientific understanding to become sustainable leaders, through clear, transparent communication of our findings, and making informed decisions for new product development.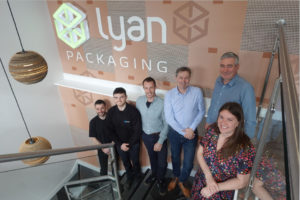 The Local Management Committee for the KTP project, from left to right: Adam Jones (Managing Director, Lyan Packaging), Simon Morris (Sustainable Packaging Development Lead), Chris Woods (Research and Impact Support Officer, Bangor University), Mick Card (Knowledge Transfer Adviser), Campbell Skinner (Life Cycle Assessment lead, Biocomposites Centre), Alex Jackson (Sales and Marketing Director, Lyan Packaging), not in photo: Rob Elias (Research Director, Biocomposites Centre).
Knowledge Transfer Partnerships (KTPs) aim to help businesses to improve their competitiveness and productivity through the better use of knowledge, technology and skills that reside within the UK knowledge base. This KTP project was co-funded by UKRI through Innovate UK and the Welsh Government.